Wishing you a Happy New Year from all the potters at Urban Art Co-op!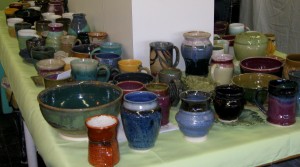 We will be starting a new session of Classes on January 4th. There is still space available and also some new times to choose from. For just a few more days we are offering all our classes at a 15% discount! Hurry to sign up! Or call or drop by the studio for a gift certificate at the discount price to use on another session.
Keith, who usually teachers a Tuesday night class is moving his time to Wednesday morning. Keith Teaches wheel throwing to beginning and intermediate potters, and a little bit of whatever is interesting to the students from 10-noon on Wednesday this quarter.
Also, we are pleased to offer another beginners focused class on that Tuesday Night slot. Michelle, one of our Resident artists, is offering this class for the absolute beginners Tuesdays from 6-8.
Check out the rest of our class offerings Here!