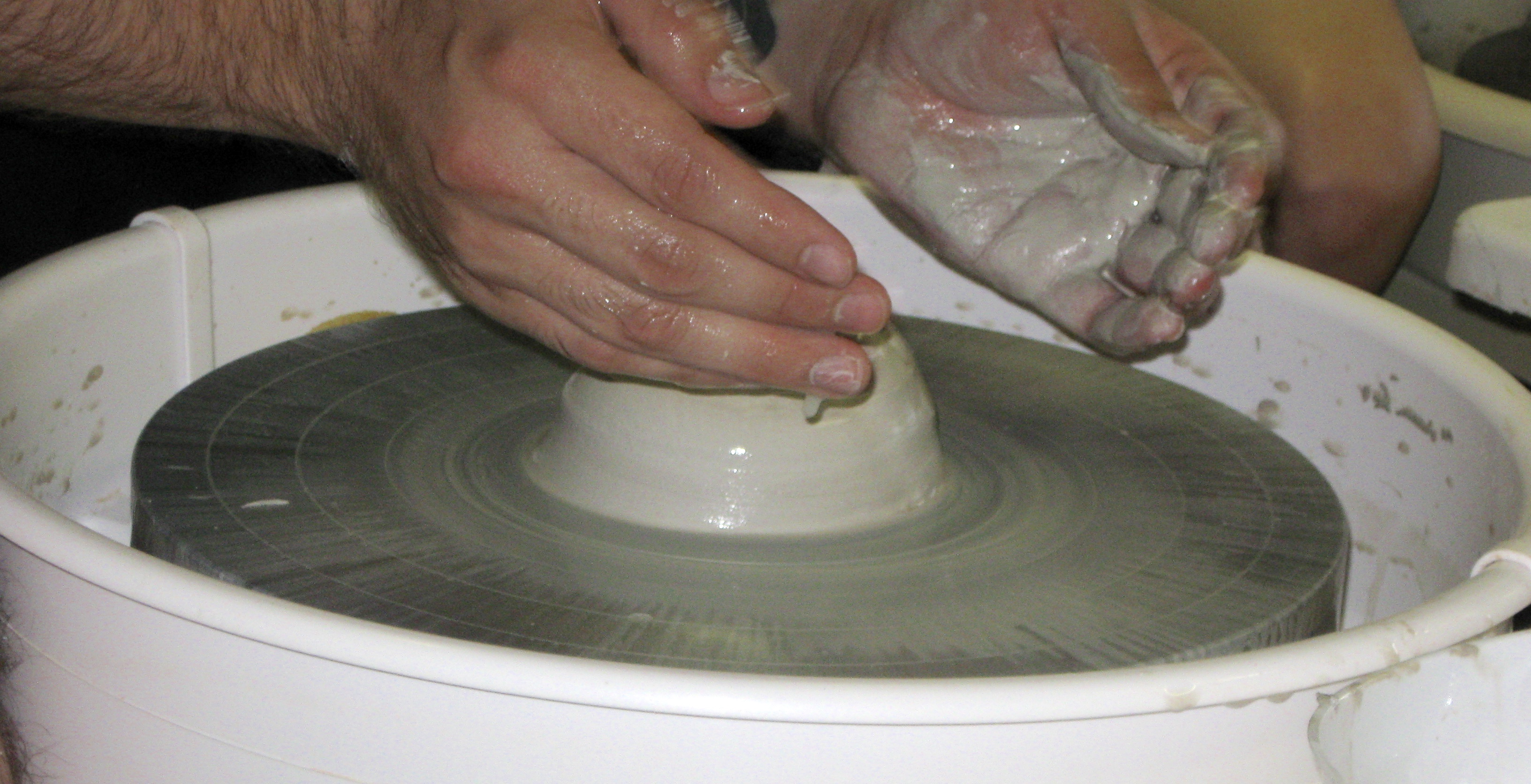 Urban Art Co-op is primarily a community of artists. We are here to help each other grow artistically, support one another, share ideas and techniques, and encourage one another. We foster an open and welcome attitude. We are always excited and happy to meet new people and learn to appreciate the unique gifts that they bring to our community. We have been endlessly surprised and delighted by the amazing people who have come through our doors.
Classes
Five or eight weeks of instruction from experienced potters.
Tools provided, unlimited clay available, your first 25lb bag of clay included in tuition.
Access to Open Studio hours
Trial membership
Cost:
$135 for an eight week class,
or $89 for a five week class.
$30 per additional bag of clay, or $15 for recycled clay when available.
Cost of clay covers all material and firing costs.
Our classes are the gateway to our community. We offer courses in many of the numerous pottery techniques for all skill levels from beginners to experienced potters. During the two hour class period, the volunteer teachers demonstrate and work one on one with students to build skills, and form good studio habits. Our teachers have over 50 years of combined experience and passion for their art.
Classes are also the best way to get to know our studio and how it runs, not to mention the community itself. For the duration of the eight week or five week class session, students are encouraged to take advantage of open studio hours outside of class. The class session functions like a trial membership, allowing students to decide if they want to continue to pursue pottery as a hobby or practice it as an art, and if Urban Art Co-op is a good fit for their artistic and social needs.
Membership
Membership is at the UAC Board of the Directors' discretion.
Membership is open to those who have taken a class and understand studio practices well enough to work independently with courtesy towards the shared studio space and other members.
Members are welcome at Board Meetings where they have a vote in the direction of the Co-op as an organization.
Limited lockers are available for members storage needs
Members have access to the studio during Open Studio hours, with the understanding that classes in session have priority on wheels and other equipment.
Members can buy clay from the Co-op as they need it. The price of the clay covers all their material and firing expenses.
Urban Arts Co-op has a zero tolerance policy for violence, sexual harassment, abusive behavior, toxic behavior, and substance abuse. We are a weapon free zone.
Members donate their time on a monthly bases to keep the studio clean and running smoothly.
They also donate a few pieces of pottery every year to the studio fundraiser events.

Clay for these items is provided by the studio, and we occasionally throw "Create Day" parties to produce fundraiser items in collaboration and make a fun event of it.
Cost:
$50 yearly (or $25 for the remainder of the calendar year, if you come a member after June 1st)
$35 monthly studio use fee.
$30 per bag of new clay, or $15 per bag of recycled clay, includes cost of glazing materials and firing.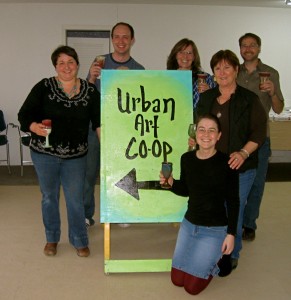 After completing a class with Urban Art Co-op, talk to your teacher about membership. If you are ready to work independently in clay; understanding the work flow, rules of the studio, and courteous community studio practices, your teacher will recommend you for membership, to the UAC Board. For the good of the studio and the safety of the Co-op members, Urban Art Co-op board reserves the right to refuse membership to students who exhibit toxic behavior. The Urban Art Co-op Pottery belongs to its members. Membership is a commitment to the community and our shared space.
Monthly Renters
Students who are not ready for a yearly commitment to the co-op have the option of paying a studio fee for the months they want to use the studio, and forgoing the yearly membership fee.
Cost:
$45 per month in which the renter uses the studio.
$30 per bag of new clay, or $15 per bag of recycled clay, includes cost of glazing materials and firing.
Key Holders
After a full year of membership, members may apply to the Board of Directors to become a key holder.
The key holder has access to the studio at any time of day or night. With this privilege comes a deeper responsibility for the upkeep of the studio, and the health of the Co-op.
In addition to the regular membership costs, all key holders pay an additional $50 yearly fee.
Key holders fall into three categories based on how they want to be involved in the Co-op.
1) Open Studio Monitor
Make Open Studio Time possible.
Commitment to come open the studio for a regular weekly four hour period, during which members and current students can work independently. The more members willing and able to volunteer in this way, the more open studio time is available for all members.
Occasionally, Open Studio Time overlaps with class time. In which case, the Open Studio Monitor shares responsibility with the Teacher on duty.
Open Studio Monitors are expected to volunteer at co-op events or to contribute to the health of the organization in some other way.
2) Teacher
Offering classes grows our community by bringing in new members. Urban Art Co-op Teachers are the face of the Co-op. Their passion and expertise are invaluable to our community.
Teachers volunteer to instruct students in techniques of their choice with approval of the Board.
They are responsible for the studio during their two hour class, sometimes sharing that responsibility with the Open Studio Monitor.
3) Resident Artist
Urban Art Co-op exists for the support of artists of all levels. A resident artist is a member who is producing art at a higher volume than other members. They need more space to store their work in progress, their tools, and any personal glazes or other material they have purchased outside the Co-op.
Designated shelving for their exclusive use.
They are expected to take a more active part in Co-op events.
Commit to studio maintenance tasks, like loading kilns or mixing glazes, that require more skill and expertise.
Resident artists often sell their art which they make in the UAC studio. The Co-op finds ways to support and promote Resident Artist's business or art sales through priority registration at the annual Holiday Bazaar, exposure through the Co-op social media presence, and occasionally advertising paid for by the Co-op.
Cost:
While the other two Key Holders pay only an additional yearly fee for the privilege of having a key to the studio, Resident Artists also pay a higher monthly studio fee for the use of their designated shelving.
Full bakers rack of shelving: $105 per month.
As space allows, Artists may bring their own wheel to be reserved for their use, and place it near their shelving.
Half a bakers rack of shelving: $65 per month. (The half rack option does not include space for a wheel)