Inspired by the BBC2 competition show, The Great Pottery Throw Down, We are excited to try out a new studio tradition of monthly challenges.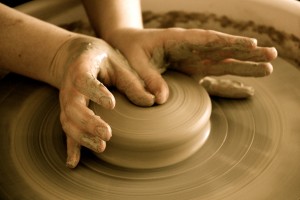 Each month we will propose a challenge to all member and students. It will involve technical skill, artistic interpretation, and a willingness to learn new things.
Our first challenge was posed by resident artist Michelle Carkeek, and is a simple, classic idea that will be a true test of technical skill: Make a set of 5 nesting bowls, to be completely glazed and fired by New Years Day.
The bowls can be formed, decorated, glazed and fired using any technique preferred by the artist and available at Urban Art Co-op studio. To fulfill the challenge, the artist must have five bowls completed, and they must fit, or nest inside one another. These are different from stacking bowls in that they will be five different sizes, rather than five of the same size that fit on top of one another. We'll save that for another month.
Good luck to anyone who wants to join in! Feel free to post pictures of your works in progress on our Facebook page!